" Alexa Can you drive my car ? Imagine Fire TV in a car why you are driving, Music, TV automatic driving ?
"
Amazon Fire TV in Cars ?
Amazon announced at CES it plans to bring a new Fire Tv edition to cars in 2020. they plan to bring its Fire TV platform to in-car entertainment systems. The downside is that Fire TV Edition for Auto will appear in future BMW and Fiat Chrysler only. Not sure how this will work as BMW drivers haven't figured out indicators yet !
The new system will include hands free Alexa capabilities and a touchscreen interface along with all features of the Fire TV.
Its been a few years since the Fire TV first launched and we have seen many different editions from Fire Tv, Firesticks, Fire TV cubes and even soundbars. The latest Fire TV stick 4k is a huge hit amongst home users and streamers. If you are interested in buying one please click below.
The complete progression is shown below: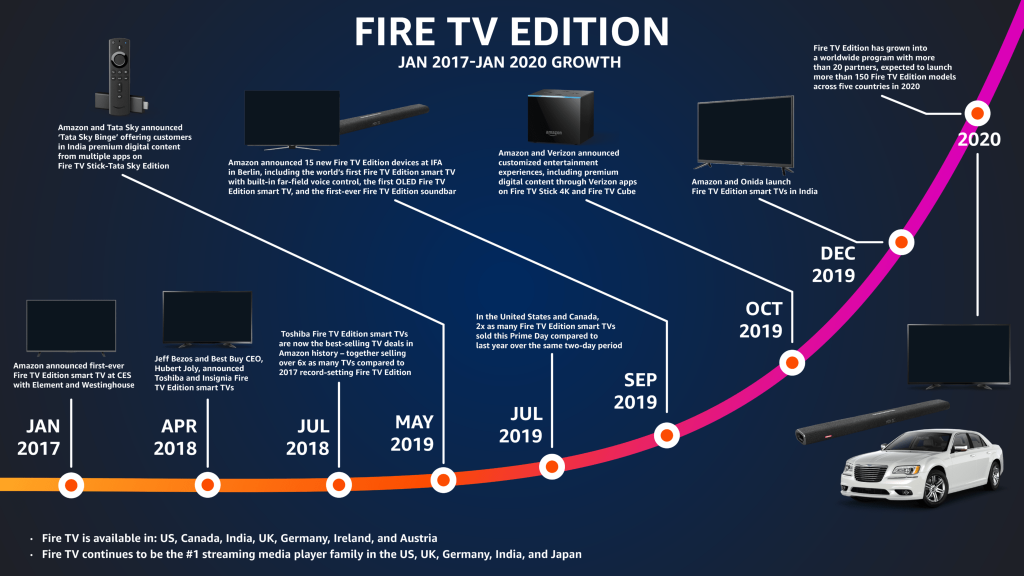 At CES 2017, we announced the first Fire TV Edition smart TV. Now, just three years later, Fire TV Edition has grown into a worldwide program which will include more than 150 Fire TV Edition models across more than ten countries by the end of the year.
Users can access streaming content and more via the vehicle's wi-fi/LTE connection, through mobile hotspot, or with any other WAN-device.
Adding Fire TV to future BMW vehicles represents a big step in bringing the best of streamed entertainment to our products…With Amazon's approach… we are able to innovate and create a unique and special experience for BMW cars.
These expansions clearly show that Amazon is trying to capture a massive audience within the streaming industry. Marc Whitten, VP of Amazon Fire TV, said the following about his products' growth:
Check out our latest tech reviews here — > Tech Reviews 
We suggest using a VPN while using the internet in General 
Here are some great offers for you
We do not condone any form of Piracy or streaming content you do not own. We also do not know what license this specific apk may have or not have. Please check these details before you use any APPS.
Please check your countries laws regarding content owners and rights for streaming
We do not own, host or distribute any APK's or Host on Docsquiffy.com